The General Steam Navigation Locomotive Restoration Society is one of six high-profile steam project groups with the common objective of delivering their respective locomotives fit for UK mainline running that have agreed to meet and cooperate with each other on a regular basis.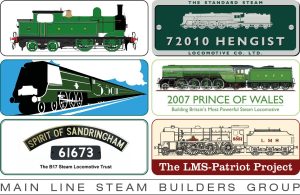 While the groups all have their own technical and project management challenges to deal with, many of the present-day safety certification and related requirements are to some degree of a generic nature, applicable to all new or restored steam locomotives. Group members can also build on the collective knowledge in the new build sector, and the significant experience / expertise gained by the A1 Trust through the previous approval of Tornado; helping each other by sharing information and experience.  While the main focus will be on meeting the risk management and network compatibility requirements of the rail industry safety certification standards, other directly related issues (for example supplier assurance, technical solutions) will be under discussion. Sharing third party costs where appropriate can ease pressure on individual project budgets.
Founder Group Members are:
B17 Steam locomotive Trust
Class G5 Locomotive Company
General Steam Navigation Locomotive Restoration Society
LMS-Patriot Company
P2 Steam Locomotive Company (A1 Steam Locomotive Trust)
Standard Steam Locomotive Company (72010 Hengist)
The Group decided to come together as the benefits became clear through their individual project experiences.
An inaugural meeting was held on 26th January 2022 at the premises of CTL Seal Ltd, a large bespoke engineering company in Sheffield that is now the home of the B17 and Hengist projects.   With the expert guidance of Graham Nicholas from the P2 project (sharing direct experience from the A1 project and his work for the Railway Safety Standards Board), along with representatives of Ricardo Certification Ltd, the group studied the evolution of rail industry certification requirements up to the present day, before starting work together on a hazard identification exercise for heritage steam locomotive design and manufacture / restoration.