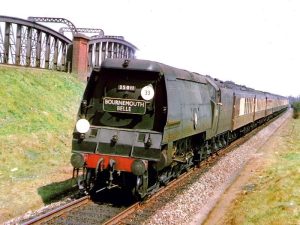 #ThisWeekIn 1951, 35011 General Steam Navigation left Eastleigh works following a light intermediate overhaul. During her visit to the works GSN had 400 steel stays repaired and 30 new "Howell" tubes installed. The major change was the new paint on the engine, gone was the Southern Railway malachite green replaced with the new British Railways Brunswick green.
General Steam Navigation was the last Merchant Navy built and operated by the Southern Railway to wear the malachite livery, having never worn the BR express blue livery. The short-lived British Railways express blue was dropped by the Southern Region as soon as it could with 35024 being repainted into the Brunswick Green livery in May 1951. General Steam Navigation would wear the Brunswick Green livery for another 15 years before being withdrawn in 1966.
Putting Funds into the Frames 
Now that the boiler has been successfully removed from the frames for the first time in 61 years,
see news item from 2nd October 2020 here
, our attention is now turned to the restoration of the frames and the rear dragbox.
We have therefore set up a Fund for the Frames that will be essential for the successful restoration of  35011 back into her original condition. Not only do we need to clean and review the condition of the frames as they exist today, any corroded sections of the framework, the rear platform and dragbox will cut out and replaced. We also need to reverse some of the areas that were changed during rebuilding to allow a new middle cylinder to be installed and reinstate Bulleid's unique patented chain driven valve gear.
This a general fund with no minimum / maximum donation or number of contribution limits, all monies donated to the Fund for the Frames will be specifically ring fenced for the frames. If you are able to contribute to this project in any way however great or small, we thank you for your support.