Continuing the cooperation between the General Steam Navigation Locomotive Restoration Society and the Medway Queen Preservation Society (a GSN shipping Co ship) following the success of their previous wagons in both 00 and N gauges further new limited edition 00 gauge 7 plank open wagon have been produced to raise fund for both societies.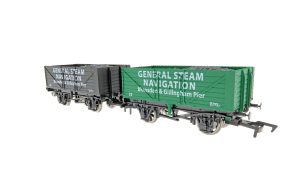 The model has been produced by Dapol and is based on their 00 gauge 7 plank open wagons with the lettering General Steam Navigation, Blunsdon & Gillingham Pier (the locations of the two Societies) and Number 22. The wagon is available in either black or green, both colours that were carried by 21c11 General Steam Navigation during her lifetime. The wagons include a coal load.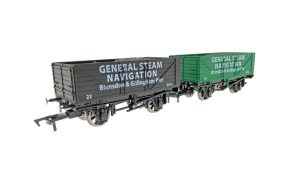 The wagons cost £12.90 each and are available from the General Steam Navigation website online store here.
A small number of the previous limited edition N Gauge Gun Powder Vans in either red or blue are also still available for £11.90 whilst stocks last.