At the successful lifting of General Steam Navigations Boiler from the frames on Friday 2nd October, the prize draw as part of our  "Sponsor an inch or more" appeal also took place and the winners are detailed below.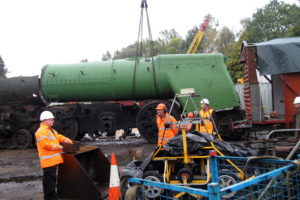 The "Sponsor an inch or more" fund raising appeal was launched back in March this year and  very quickly raised the funds to cover the cost of the crane hire for the boiler lift.
The society would like to express our thanks to all whom to  took part and contributed to this major milestone in the restoration of General Steam Navigation back to her original 1950s condition.
The draw for prizes was made at significant points during the boiler lift and winners are:
Crane set up and ready to lift – GSN Pint Glass – Shaun Bradbury
First Inch lifted – GSN Mug – Ian Comley
Maximum lift point of the boiler reached – A years free Society Membership – Alex Clements
Boiler lifted clear of frames – A Graham Farish N gauge Merchant Navy Pacific model – Michael Hampton
Last inch of lift completed – GSN Mug – Andrew Charmer-Stevens
Boiler in new resting place – A Bachmann 00 gauge H2 Class locomotive – Alex Clements
Crane released from boiler – GSN Pint Glass – Simon Shutt
Boiler lift success – Bottle of Veuve Clicquot Champagne – Andrew Stokes
All the winners will be contacted by email on the next few days to make arrangements to send the prizes.
The major boiler lift milestone allows the project to more onto the next  exciting stages of restoration and details of how you can get involved with future fund raising campaigns and be a part of the success of the project will be announced soon.
As always any support would be gratefully appreciated. You can sign up for membership for only £12 per year here, donate to the Society here or even better join us as a shareholder here.