Engineering
The Society is pleased to report that we be restarting working parties in July. Numbers will be strictly limited to begin with to comply with social distancing so it may be a little while before we can welcome new members to our working parties. Thank you to those that have recently sent in their volunteer forms to join the ranks of our working members, we will welcome you to Blunsdon as soon as we are able.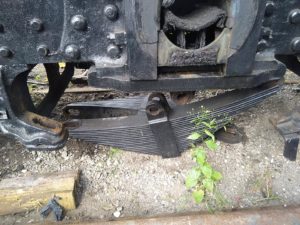 In June a few select volunteers restarted  stripping down work on the GSN. Most of the work focused on getting our container set up which included the installation of the container lights and electrical sockets, at the request of the railway painting the outside green and various other small tasks. Work did progress on the locomotive with the removal of the springs that attach to the center drive wheels. A preliminary visual inspection suggests they are good condition considering their age.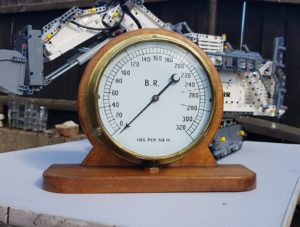 The Society also gained a new component in June that was originally fitted to sister Merchant Navy 35023 'Holland Afrika Line'. Not many parts of 35023 survived the scrapyard, but luckily after the last fires were dropped from the engines at Nine Elms, souvenirs from the locomotives were recovered, this includes the boiler pressure gauge from 35023, which had recently resurfaced from an old drivers collection. This historic component has now been secured for future use on GSN thanks to the very kind donation of one of our members.
Clothing
You can now look great whilst supporting the restoration of 21c11 / 35011.
The Society is pleased to partner with our friends at Universal Uniform to provide a range of quality 21c11 / 35011 GSN branded clothing items, in a variety of colours, such as: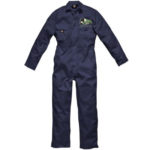 With manufacturing processes having been made fully Covid-19 secure,  all items are made to order and usually despatched within 7-10 working days.
All proceeds from the sale of these clothing items will directly benefit the restoration of 21c11 / 35011.
To visit our dedicated clothing online shop and make your purchases click here
New Dates for Fund raising Trip.
As you are probably aware we have had to reschedule our four day fund raising coach trip to Yorkshire,which subject to getting sufficient numbers will now take place on Friday 16th October.
Profits for the trip will be split between GSN & The Swindon & Cricklade Railway.In my professional capacity as a coach driver I will behind the wheel for the trip so it will be a great way to meet fellow members & raise money at the same time.

We will travel on 3 steam railways,visit the National Railway Museum* at York & generally have a fun weekend. We will be based at the Best Western Guide Post hotel on the outskirts of Bradford for 3 nights on a half board basis.
The program is as follows:
Fri 16th Oct. Travel from Blunsdon to Bradford
Sat 17th Oct Steam Journey on the Bolton & Embsay Railway followed by a journey from Rawtenstall to Bury on the East Lancs Steam Railway.
Sun 18th Oct Steam journey from Pickering to Whitby on the North Yorks Moors Railway.
Mon 19th Oct Visit to the NRM York (Subject to NRM reopening after corona virus shut down) before returning to Blunsdon.
Price £299pp. This includes all train fares. There is a £50 single Supplement.
This trip is run in conjunction with Holidays & Cruises in Melksham . To Book please call them on 01225 865725 option 3.
How you can help
You can help with the restoration of 21c11 / 35011 back to original condition complete with air smoothed casing and chain driven valve gear in several different ways.
Membership
The General Steam Navigation Locomotive Restoration Society Membership costs £12 for the year click here for more details on how to join us.
Shareholding
The General Steam Navigation C.I.C. offers our supporters the opportunity to purchase shares in the locomotive. To find out more about becoming a shareholder and the levels of benefits click here.
Sponsorship
The Society does have a few components available for sponsorship.
Gauge glass protector (1 available for £80 – 1 already sponsored)
Safety valve castings (1 available for £250 – 2 already sponsored)
Front end cladding and lamp irons are also available for prices
To register an interest in sponsoring any of the components please contact us directly via email, social media on Facebook, Instagram and Twitter or using the contact us form.
As always thank you for your continued support.