February 2021 Update

Whilst Covid19 has been affecting both our financial and engineering efforts, the Society is delighted to report that new parts continue to be constructed. Recently the front bogie spring beams were delivered by Ashbrook Engineering Ltd; the Society is extremely grateful to Mr Alan Dixon who sponsored their construction. Along with the efforts of Mr Tony Simmonds who is machining the spring hangers for the Society, work on the bogie is progressing at a good pace.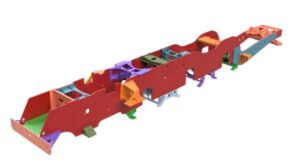 Work continues with converting the BPLA drawings of the frames & valve gear into CAD to allow us to have replacement parts manufactured. This is a lengthy process, but one that is vital for our goal of reengineering the existing frames to a condition where they can accommodate the original chain-driven valve gear and replacing the middle cylinder. In time we will also have the drawings of the smokebox and air-smoothed casing transferred to CAD for the same reason.
The Trailing Truck Transformers funding group continues to be our primary fundraising campaign with its objective of funding the restoration of GSNs trailing truck. The Society is pleased with the initial number of members who have signed up for blocks but are under no illusions that its still along way from being funded. We are offering a maximum of 30 members the opportunity to purchase a 'Lot' for £500. Members are welcome to purchase as many 'Lots' as they wish up to the maximum target amount.
Members of the Fund Group would receive a number of benefits including:
Certificate of membership of the 'Trailing Truck Transformers'
Name engraved on a suitable brass plaque attached to the refurbished Trailing Truck
Regular updates on the refurbishment of the Trailing Truck
An invitation to a VIP day at the Swindon and Cricklade Railway to see the completed Trailing Truck once it is returned to the railway.
For details on how to become a Trailing Truck Transformer click here.
We understand that £500 is a lot of money and for people who wish to support the trailing truck but are unable to join the Trailing Truck Transformers club you can help us by donating to our Wheel Set appeal on our JustGiving page here.
Alternatively you can make a donation however large or small into our newly launched Putting Funds into the Frames campaign here…
The 35011 Twenty Twenty Club winners have been drawn for January.
Congratulations go to:
1st Prize – David Oborn, 2nd Prize – Simon Shutt, 3rd Prize Allan Bott
The Twenty Twenty Club is a great way to help raise funds for the locomotive and at the same time have a little bit of fun. We still have the last few places remaining find out how to join here.
2021 is shaping up to be a very important year for the project with some big goals in mind. You can help support us in many ways if you are not already a Society member you can sign up for membership for currently only £12 per year here, or donate to the Society here or even better become a shareholder here.
Finally some of our trustees will be making a guest appearance on the "Railwaymania" podcast and will be answering questions from members and the general public.  If you have any questions you'd like answering please send them to us on Facebook, Twitter, Instagram or through our website and we'll ensure as are answered on the podcast as possible.
As always thank you for your continued support.