October was a busy month for us with the Society stand visiting both the Mid Hants Railway Autumn steam gala and the Exeter Garden Model Railway show. These events were very successful for the project with the Society signing up several new members. The Society would like to take our stand out and visit more railways in 2019 but for that we need your help. Events on our wish list include the Gloucestershire Warwickshire Railways May gala, the Severn Valley Railway and the Great Central Railway. The more railways we visit the more people will see our society and hopefully join which will be a major boost to our efforts to restore 35011. If you are interested in supporting GSNs restoration through manning a sales stand please do get in touch via the website.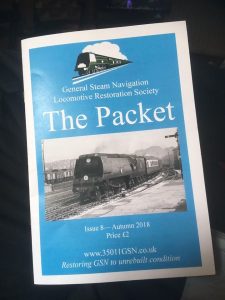 Issue 8 of the Packet landed on our members doorsteps this weekend and was another bumper issue.  The Packet has updates from the engineering team. new original Bulleid components, another magazine scan from Southern Railway magazine and reports from all the various departments within the Society.
General Steam Navgation made a surprise TV appearance this week albeit in 00 gauge form. She appeared for a couple of seconds on Channel 5s Great Model Railway Challenge show when Team Tonbridge were testing the layout. Sadly Team Tonbridge didnt win there heat but seeing a model GSN was a nice surprise for us.
With Christmas fast approaching today is the perfect time to join easyfundraising.org.uk. Easy Fundraising is a great way to raise money for charities, schools, sports clubs, community groups, Merchant Navy class steam locomotives, and other good causes just by shopping online and selecting your chosen charity, in our case General Steam Navigation.
How it works
First go to the easyfundraising website (www.easyfundraising.org.uk)
Choose a link to any of the 2,700+ retailers (e.g. Amazon, Asda, M&S, Waterstones, etc) to be taken to the retailers own website
Shop as normal
By registering General Steam Navigation as your good cause on the easyfundraising website, purchases that you make, after clicking through to any retailer from the easyfundraising website, will automatically provide a donation to us. It really is as simple as that! And if you install the easyfundraising Donation Reminder you don't even have to remember to do steps 1 and 2! There is also an App for mobile devices. Refer to the easyfundraising website for any further details.
As always thank you for your continued support