March 2022 Update
The Packet
Issue 17 of our Member's magazine The Packet should, subject to local post, have arrived with our members. We hope all members enjoy the comprehensive 32 page read getting the latest updates on the great progress being made on the restoration of GSN.
If you are not yet a member and therefore missing out you can join us here https://www.35011gsn.co.uk/membership.html
2022 Annual General Meeting
The sixth Annual General Meeting of the Society will be held on Sunday 15th May at Blunsdon on the Swindon and Cricklade Railway at 1pm. This years AGM will be taking place on an operational day for the Swindon and Cricklade allowing members to have the first opportunity to experience all the line has to offer before the meeting. Catering facilities will also be available in the railways excellent onsite café. The AGM is still dependent on Governmental guidance. The AGM will be the first that many of you will have had the chance to get to see the engine following her boiler lift in the Autumn 2019 and the major work that has continued since that time. It is planned that once the society AGM has been completed the CIC's will take place with the shareholders. Shareholders will be contacted separately in this matter.
Volunteer Opportunities
Our working parties are attended by dedicated and enthusiastic volunteers, despite recent Covid restrictions, who also take the time to man our sales stand at various railway events that helps not only raise funds but also continues to spread the word about our project. Much work has taken place behind the scenes during the last 12 months, particularly on the engineering and fundraising fronts. This good work will soon hopefully bear fruit and with this in mind we plan to accelerate the rate of GSNs restoration and expand the number of railways we visit with our sales stand and also further increase both number of working parties and the number of volunteers that can work on site at any one time.
To further strengthen owning CIC and Society boards we are looking for somebody with relevant legal experience to act in an advisory capacity when required. This would not be an onerous task or overly time consuming but would be a very useful addition to our team. To enable our engineering progress to step up a gear the Society does need to increase its income and anyone with fundraising experience or ideas would be extremely useful to the project.
In the same way we are also looking for an advisor with experience of reviewing and drafting engineering / purchasing contracts to assist us when sending parts away for contract overhaul & such like. Our CME Dr Steve Rapley is doing fantastic work on planning, researching, parts design and all mechanical matters relating to the overhaul, he is assisted by an engineering subcommittee and would like to recruit additional volunteers with solid engineering experience or qualifications (professional welding knowledge would be particularly useful) to assist him leading the engineering team & turn our dreams into reality.
Finally, if you fancy helping us either with the restoration at Blunsdon or helping take our sales stand to major steam events around the county you would be made most welcome. Our working parties are friendly affairs with much laughter as well as satisfying work on the loco, new members are always welcome to join our happy family. If you are interested in any of the roles mentioned above, then please get in touch with myself at andrew.collett@35011gsn.co.uk and we will look forward to welcoming you to our friendly team. With your help 2022 will see us increase the rate of restoration and fund raising and be a year closer to putting the steam back into General Steam Navigation.
Fundraising Coach Trip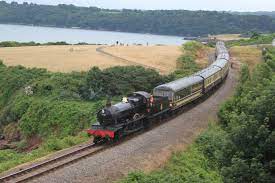 Following the success of our 2021 fundraising trip to Yorkshire we are planning a similar trip in 2022, with profits again being split between GSN & the S&CR.
The trip departs on Monday30th May & is 4 nights half board. We are staying at the TLH Victoria Hotel in Torquay which is close to both the seafront and town centre, the proposed itinerary is a follows:
Day One. We depart Blunsdon & travel to Torquay.
Day Two Return journey on the South Devon Steam railway from Buckfastleigh to Totnes.
Day Three. We travel into Cornwall and ride on the steeply graded Bodmin & Wenford Steam Railway.
Day Four. Return journey on the Paignton & Dartmouth Steam Railway.
Day Five. We return home with stops en route.
We hope you join us for a steam filled week. A great way to raise money and meet fellow members and volunteers. The cost is from £459pp and includes all travel and train fares and 4 nights half board accommodation.
Please contact Holidays & Cruises in Melksham on 01225 865725 to book your place.
Fundraising Wagons
The Society still has a number of fundraising wagons available for sale. The model has been produced by Dapol and is based on their 00 gauge 7 plank open wagons with the lettering General Steam Navigation, Blunsdon & Gillingham Pier (the locations of the two Societies) and Number 22. The wagon is available in either black or green, both colours that were carried by 21c11 General Steam Navigation during her lifetime. The wagons include a coal load.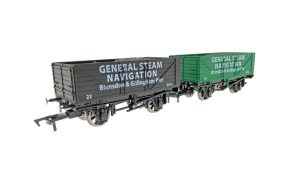 The wagons cost £12.90 each and are available from the General Steam Navigation website online store here.
A small number of the previous limited edition N Gauge Gun Powder Vans in either red or blue are also still available for £11.90 whilst stocks last.
Become a shareholder in 35011
The General Steam Navigation C.I.C. is offering our supporters the
opportunity to purchase shares or additional shares in the locomotive. Shares are sold in blocks of 250 by £1 which can be purchased directly, via standing order (£25 a month for 10 months) or online.
What will you get for your money?
• Choice of 1 of 3 Stuart Black exclusive portraits of General Steam
Navigation in her various conditions
• One Ticket behind General Steam Navigation's first passenger
service
• First choice of components to sponsor
• Invitation to our yearly shareholders day and all open workshop
events
For members who purchase more than one block the Company has
created some extra rewards.
500 Shares
• Tickets for four people to ride on General Steam Navigation's first
passenger service
• The remaining 2 Stuart Black portraits to add to your collection
1000 Shares
• Footplate ride on General Steam Navigation
2500 Shares
• Name engraved on the roll of honour plate inside General Steam
Navigation's cab
• Chance to drive General Steam Navigation
• Free Society Membership for five years
To apply for shares please visit our shareholders page on the website. 
The Society has been paid 
£52.30 through EasyFundraising.
Thanks to everyone who helped to raise these funds. If you're not supporting 35011 General Steam Navigation, please sign up now. It takes 2 minutes & 4,300+ shops will donate to us for free every time you shop with them! You can sign up using the 
link here
. By signing up to 
EasyFundraising
 you'll be able to help restore GSN without any costs or hassle to you.
A full engineering report will be appearing the next few weeks, until then thank you for your continued support.